Trip 2 Texas, part 5
Tags: Events Fort Worth Me Pictures Vacation
Home again! So let me finish off by describing the way home.
First of all, I had a nice stay at Quality Inn & Suites East. This, by the way, was the view from the window:
Though I have been warned, that the neighbourhood is kind of dangerous. So you may choose to stay somewhere else, if you are traveling on your own.

Then I took the Supershuttle from hotel to air port. Very smooth ride, as it was on the way from the air port to the hotel.
Then a burger at Fudds. The nice American burger, where you get a good bun, a good burger, and get to choose and combine the rest on your own. Well done! Oh yeah, and they also had this at the air port: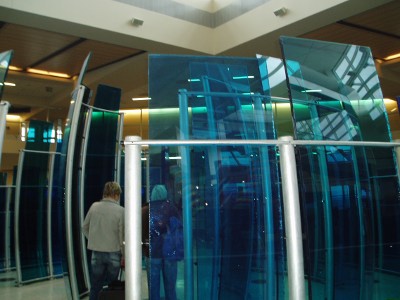 Some piece of art, called "Circling".
Checking in online, and later changing the seat at the air port. Both worked marvelously. Yeah!
So, as I said, home again. And I've had time to spruce up the preceding chapters with pictures, and a video.
Created: 30 April, 2009 - Last changed: 30 April, 2009 - Comments (0)