Toronto, 2000
Tags: Events Me Pictures Toronto
This text covers May 13-20. The links will lead you to pictures. You might also want to see my page about a trip to Ireland in July.
Saturday
Well, this starts on the right foot, doesn't it? We were supposed to fly from Copenhagen (directly to Toronto, Air Canada, 767) 10.40 - instead the time slides from 17.00 to 18.15 to 18.40 - and we fly 19.00... I guess the excuse is good: Toronto is having the worst thunderstorms seen for a long, long time - but it's still a bit annoying. Even then: the extra time is spent with 2 of my colleagues, and well - sort of just flies!
And if I can't find anything else to worry about: how will I handle jetlag?
But finally we are actually in the air - and suddenly there. And get to the Hilton hotel, which is grand! 32 stories, executive lounge on top, and we're living on the 28th floor, in big rooms, with a great view, a real desk, iron and ironingboard, complimentary shower cap, shampoo and so on ad nauseum. A bed meant for 2 people with just me sleeping in it (with those darned, tight sheets). Oh cliche: the Holy Bible in the top drawer! And they even have green herbal tea!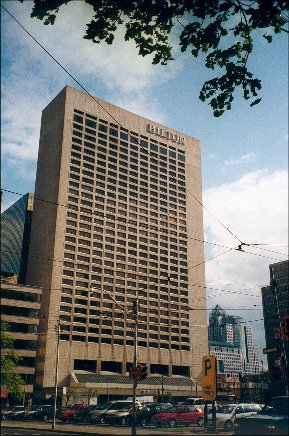 Sunday
The pride of Toronto: the CN tower. (CN is some sort of rail company, and they needed a huge tower to be able to "see" a lot of Canada. Hence they built the tallest (freestanding) tower in the world!) 340 meters up there is an observation dome - partly with a glass floor! Some of us walk on it, looking relaxed, some of us walk on it, looking scared. I opt for lying on the floor... The lower bit of the tower also has a lot of other entertainment, including a simulator. A high price, a lot of time wasted, and in the end a simulation of maybe 1 or 2 minutes. A good one. But did they really have to warn people with heart problems that often? It wasn't that good...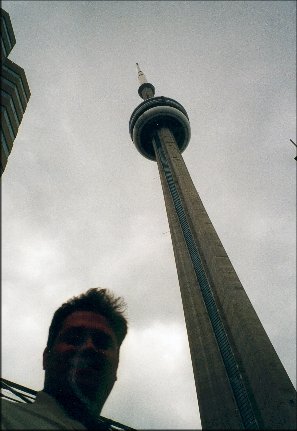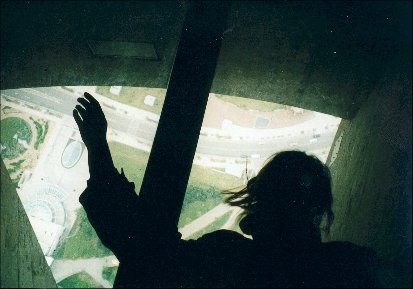 The day winds down with a "snack": freshly pressed juice of all sorts. Really good. Jetlag weighing heavily: taking a nap before dinner makes it hard to get up and out... But then we move on to "juice" with an attitude: huge margeritas. Didn't know they were made that big. But this is the start of a trend: each night we research whether there are bigger and/or better margeritas to get in town, or whether the quality stays the same the places we have already been.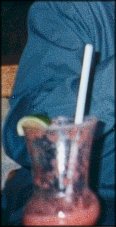 Monday
Most of this day is spent with work. The evening meal is eaten at a restaurant, that shall remain nameless. Impersonal service. We don't get what we ordered. Oh yeah, did I mention the huge meals? And we make the same mistake as yesterday: ordering something to eat before the main meal, when one plate would have been more than enough. The day ends at the pool table in the executive lounge.

And the jetlag passes!
Tuesday
Not much to say. Long day at work. Get back to the hotel. Pass out in bed.
Wednesday
Another workday. The non-work-related event of the work day is that the electricity suddenly disappears! But the laptops running on battery still run, and illuminate the room. And nobody really panics - for long. Well, I did scream, but only a little bit... ;-)

And then a baseball game. The local team is the Toronto Blue Jays. They are playing 3 games in a row against the Boston Red Sox, tonight is the last night. Yesterday they won. Today they lose... Before we know it the game has started, and within something like 5 minutes, Red Sox have 2 points! Which is a lot in baseball. We are still trying to figure out the rules and the scoring, and they have already lost! Maybe not on the score board, but it seems their morale is sliding, and in the end they lose 0-8. Ah well. Was nice feeling the atmosphere, eating the hot dogs and so on.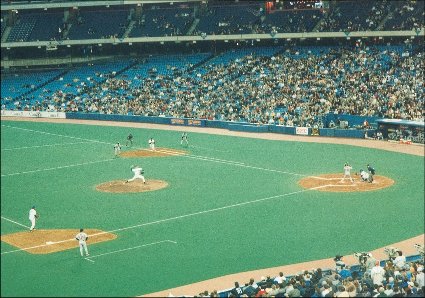 And I have reasoned with the hotel staff, and they have stopped piling that heavy blanket, and the 4 big pillows on my bed - I wasn't using them anyway... Small victory!
Thursday
Another work day. Actually the last. It is not difficult describing the end score: this visit has been a real success. We have met some very nice people, they have shared their knowledge with us, and we know how to get in touch with the right people now, who can help solve problems we might run into in the future.

I spend some of the evening on my own. A deep sense of gratitude "attacks" me. Gratitude that I am working for a company that will give me this kind of wonderful trip. And gratitude that I can be in a position, where I can really enjoy it.

And then moving on to the real entertainment ;-)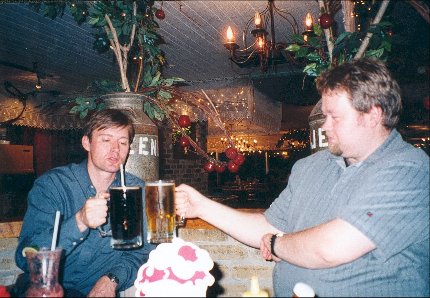 Friday
This day is dedicated to the Niagara Falls. Which we see in rain... But they are still pretty impressive... Huge amounts of water passing by very fast. All of the time. All year round. For years and years. (Actually man is doing his best to make sure this fall won't be around forever. Impressive that it is possible...) Impressive sight. One to strike from the "to see" list.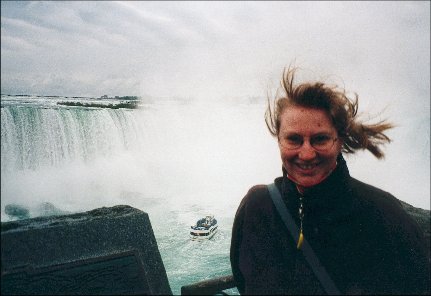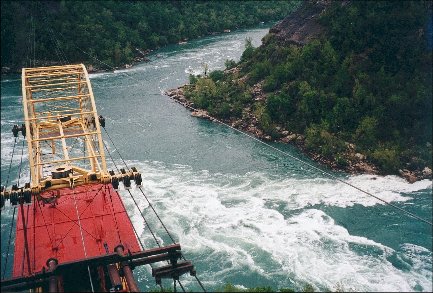 Then on to Niagara On The Lake. Tourist trap! And now the sun shines! Ah well, just enjoy it while it lasts. Having "real" burgers (I hope). Buying christmas ornaments!!!
Getting back. Once again getting prepared for jetlag.
Saturday
Early morning trip. Investigating the houses, I could see from my hotel window. Funny how the tall, tall buildings live side by side with very small buildings. Also seeing the harbour. Back to the hotel and pay the bill. And then moving on.

Royal Ontario Museum, also called ROM. Egyptians. A copy of a small burial chamber really impresses me. Chinese. Dinosaurs. Yummy! Back to the harbor, to take a trip on a boat. Boy, does our guide know some tall tales of the town!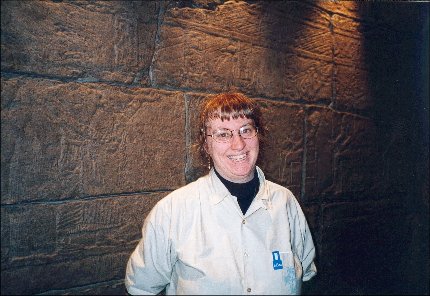 The one about the gynecologist and the psychologist getting married and buying a boat, called Heads n Tails.
The one about Babe Ruth hitting his very first homerun right over there in 1914, losing the ball in Lake Ontario - and it still hasn't been found...
The house that looks like gold. And actually is gold. The bank building the house bought a lot of cheap gold. Dusted the windows with gold. Sold the rest of the gold later at a high price. And actually got a profit. Apart from the dwellers not needing drapes when the sun shines.
The beach, where you can get a tan naked, but have to put on clothes, if you go for a swim!
And the CN Tower. Very safe building - 2000 workers, no injuries. But the number of injuries on the freeway next to the rising tower rose to 4 times what is was.
And over there they play dual pool: a pool table floating in a swimming pool.
Hurrying back to the hotel. Getting back to the airport. Fumbling the arrival, but in the end finding the right plane, and getting in there. This time on business class. Oh joy! Seats that can do everything - including getting almost like a bed! A personal screen, so you can watch the movie you choose. Champaign, because you must be really thirsty after getting on board. (And to impress those going by to get to economy class...) A gift: a small bag with tooth brush, lip balm and other stuff like that. A menu! Socks, if those you are wearing smell too much, so you can safely take off your shoes while you sleep. All cutlery, plates and glasses not made out of plastic. And even table cloth...
And finally: home. Actually it's Sunday morning now. But what the hey. This has been a good trip, both the business part and the pleasure part.
Created: 1 January, 2001 - Last changed: 19 May, 2008 - Comments (0)