Edinburgh, 2000
Tags: Edinburgh Events Me Pictures Vacation
This text covers a trip to Edinburgh September 21-29. The column on the left is about the structure of the trip, and links lead to external web sites or email addresses. The column on the right is about my impression, and links will lead you to pop up pictures, mine or others. I stayed all the nights at Edinburgh First, I think my room was called a self-catering apartment. B&B like. It is located at Pollock Halls, University of Edinburgh. I spent a lot of the time at a conference, that I mostly don't talk about here, as I want to tell you about the vacation bits.
Thursday
September 21
Travel: Flying with Go, Copenhagen-London and London-Edinburgh.
Main impressions: For the first time I was flying alone / travelling abroad alone. I treated myself to window seats all the way. Seeing the Danish bridges from above, trying to take pictures of them! Clouds, their shadow on the water, the color of the water - all very good.
Travelling with Go means there is no possibility for transit. Which meant I had to spend forever in London Stanstead, not time enough to go into town, too much time to spend comfortably - I was even too early to check in my suitcase right away... I will probably not choose to travel this way another time.
I got very excited about finding "Upstairs Downstairs" on newly released video tapes. I kept remembering the tapes while I was abroad, unable to watch them, and had a very good time with them, once I got home.
As I knew I would be busy the following days, I walked around Edinburgh this night - my legs got very tired, and ached for the next few days. But I got a feeling for the city.
Friday
September 22
Sights: Edinburgh, from the outside.
The conference began this night.
Main impressions: I woke to see a rainbow - beautiful!
I spent most of the day planning the rest of the vacation, booking a trip for one of the last days.
I also ate the local specialties: Haggis (mostly grain and pepper it seems) and Neeps and Tatties (fancy name for turnips and potatoes) and Cranachan (red berries and whipped cream mostly - and oatmeal, which I thought was, you know, porridge, but it was just like flour...).
I bought a toy bagpipe!
To rest a little, I also found a cinema and saw "Chicken run". An okay way to spend an afternoon. Watch that gravy pressure! And guess what, the hen gets the rooster in the end...
Saturday
September 23
Sights: A ceilidh.
Main impressions: The ceilidh was singing, dancing, playing, listening to music. Quite good. Although maybe a bit orchestrated / not very impulsive. I got a chance to sing "Vuggevise", and afterwards I was approached by a guy, talking to me in Danish about not realizing I was Danish!
Sunday
September 24
Sights: A guided walk through Edinburgh.
Main impressions: There was this dog - Friars Bobby I think. [Actually Greyfriars Bobby.] A story about a dog staying at his masters grave until he died of old age, 14 years later...
Greyfriars Bobby
Tuesday
September 26
Sights: The conference ended this afternoon.
Eating at Ciao Roma, an Italian restaurant.
Main impressions: The waiters at Ciao Roma were really funny. The food is okay, but if you like corny experiences, eat here!
I was out scouting for a mandolin for my boyfriend: special brand, special color. Turns out they had it, and I bought it. Felt really good to succeed with this.

Recommended: Eating at Ciao Roma.
Wednesday
September 27
Sights: "All" of Edinburgh: Edinburgh Castle, "Discover Edinburgh" with Guide Friday (a tour), The Scotch Whisky Heritage Center, Turboride, Literary pub tour.

Main impressions: Edinburgh Castle is much bigger than I thought - not just one building, but a lot of buildings.
Funny how much it differs. In Galway the coach trip was structured in much the same way, but nobody got off anywhere, except at stop no.1. In Edinburgh people got on and off everywhere.
The Whisky experience was very controlled: sit now, walk now, take the barrell ride now and so on. First time I have had whisk(e)y with water in it - worth trying again.
The turboride was an honest attempt to combine big screen pictures with, not a whole room shaking, but "just" the chairs. Very convincing... I screamed, and felt like top of the world afterwards.
The pub tour turned out to be some sort of play - two actors, some lines of their own, some quotes from big poets - and some walking, from pub to pub. Very funny. Even though they were hard to understand.

Recommended: Turboride, the literary pub tour
Edinburgh Castle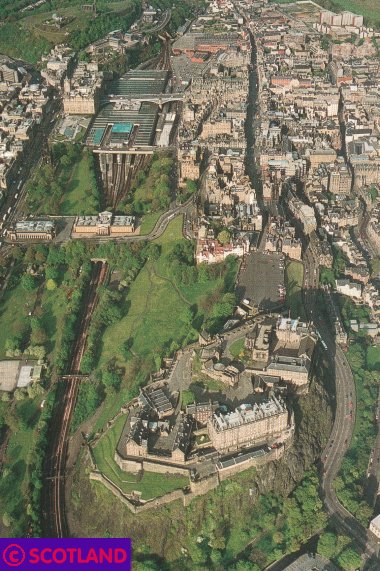 Thursday
September 28
Sights: Coach trip with Scottish Tours to Loch Ness, also covering Glen Coe, Ben Nevis, Inverness and Culloden Battlefield.

Main impressions: Unfortunately we didn't get to sail on Loch Ness, and there was no free way even to get down to the water. I wrote a postcard, took a few pictures, waited until we moved on. Not a big deal...
Glen Coe and Culloden Battlefield are very bloddy tales, about Scottish people killing and being killed...
Lochness
Friday
September 29
Travel: Flying with Go, Edinburgh-London and London-Copenhagen.
Main impressions: Relief, because I didn't have to leave the mandolin, but could carry it into the plane, both times.
Created: 30 June, 2001 - Last changed: 19 May, 2008 - Comments (0)