Berlin, 1999
Tags: Berlin Concert Events Me Mike Oldfield Pictures Vacation
(This was originally an email to Amarok, the Mike Oldfield mailing list. Sent 2 days after June 23, 1999, and the Mike Oldfield concert in Berlin.)
---
Hejsa!
Back from a 4 day vacation in Berlin - ending with a concert on Wednesday night. The concert was the best part!
Bits and pieces, in no particular order.
They had no program. Sold out? I bought a necklace. It's stamped silver directly on the bell. If anybody figures out, whether is's silver or not, I'd sure like to know.
20.00-20.30 Luca playing. Reminds me of Tracy Chapman - a little. "Julias ordinary day", "Magic jacket", "Homeless", "Strong enough" (cover version), "Alright now" (no, not that one!)... Applause when she ended! She was good, and I might buy the CD, if there ever is one.
20.30-21.00 Boring! Backstage people walking across the stage. Some people in the audience tried to start a wave - not much success... (BTW I was sitting in a very active group of Danes, on the so called 4th row (it really was the 12th!!!), on the right side. People on all sides of us kept looking at us strangely because we sang along, applauded, shouted and so on.)
21.00-22.45 (?) Music!
He was sitting center stage, not on the left as he's done a lot lately. Once he walked over the left part of the stage.
Supernova really rocked me....
Ommadawn synth-choir and guitar-harp? Ah well... And during the non-active bits picking his ear?!?
The heart-beat drums of Ommadawn really got to me - I think this is one of the first times Ommadawn has really touched me.
Muse was a nice surprise. Very simple - also very touching. I almost cried... But it made Embers and Summit Day seem boring in comparison. (BTW some times I really felt a lot of emotions. So much so, that I had to "rest" and ignore some music for a while, just to get ready for the next wave... Can't say I've tried that before...)
While introducing the other musicians, he misspoke - and promptly slapped himself on the cheek, before he started over.
I loved that TB became a part of TB3 - although I had a hard time placing all the references, and sometimes was just confused what is this he's playing now? I hope a bootleg will emerge, so I can listen to this again.
The music was loud, but not too loud.
Best concert in 15 years? Best concert for me so far! More varied selection of music than TB2 and HGP. Errors, yes, but also life, feeling and joy!
Really looking forward to seeing him in a month, in Denmark! I get the feeling, that this tour will get better and better.
Lise
---
I'm afraid I don't have a lot of relevant pictures. But. The ticket.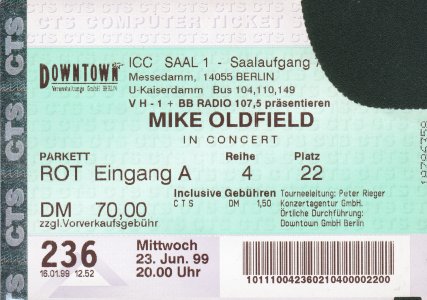 Created: 30 June, 2001 - Last changed: 20 May, 2008 - Comments (0)