Ireland, 2000
Tags: Events Ireland Me Pictures Vacation

This text covers a trip to Ireland July 8-18. The column on the left is about the structure of the trip, and links lead to external web sites or email addresses. The column on the right is about my impression, and links will lead you to pop up pictures, mine or others. My travel companion was my boyfriend, Obi. Thanks to Obi for lending me equipment, that I might make this page! And you might also want to see my own page about my trip to Toronto in May.
---
I am grateful that
we planned this trip the way we did - pre-booking BnB and stuff like that
I experienced Newpark House and Lynburgh
I got to listen to some traditional, Irish music
I was in Bunratty Castle
I got to Inishmoor, got to be utterly alone, and also that I saw Ragus
I saw Aillwee Caves
I was introduced to "The quiet man"
And now the details.
Saturday
July 8
Travel: From Vanløse to Copenhagen Airport by subway and train. (Vanløse is our home town, a suburb of Copenhagen.)
From Copenhagen to Brussels by plane.
From Brussels to Shannon by plane. (Both trips with Virgin Express - we also used that company going home 10 days later.)
From Shannon to Roslevan by cab. (Initially we talked about taking a bus, but we would have had to wait 2 hours then. Roslevan is a suburb of Ennis.)

BnB: Today and for the next 4 nights Newpark House.

Main impressions: We got delayed in Brussels. All planes seemed to be delayed this day.
Going by Brussels made it a cheap trip. But it also meant that we spent something like 10 hours travelling...
Our first day in Ireland was very, very wet. Thankfully that was the worst weather we had.
One way to see Newpark House: "Inhabited. Standing." Another way to see it: a beautiful old building from 1650. The atmosphere couldn't be better. The hostess (Bernie Barron) and host (her son Declan) both did a lot to ensure we had a good time while in Ennis. And we had a canopy bed, my first! The local dog wanted to play. And the local peacock was beautiful. Okay, so the house wasn't in perfect shape, neither the old bits nor the new. But who cares!
A funny thing. Ennis is an Information Age Town - a lot of people have internet access. But because we were tourists, we had a hard time getting to our mailboxes!

Recommended: If you rely on public transportation: stay at least 2 nights in every place. And get all the "preplanned" coach trips you can. And take a cab from the airport/station to the BnB you booked in advance. - Newpark House.
Newpark House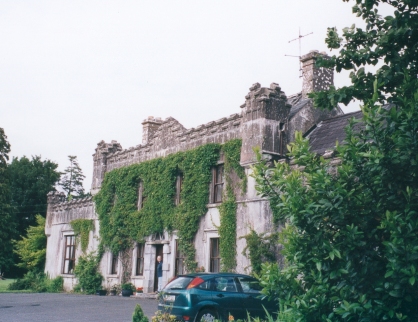 Peacock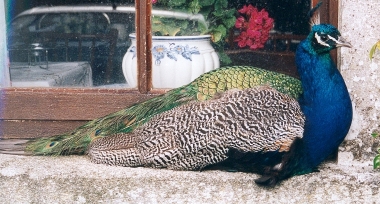 Sunday
July 9
Sights: Ennis Friary.
Traditional Irish music at a pub, Cruise's.
Main impressions: The music session was a coincidence - we didn't know it was happening. But as we were both looking for music, we loved finding it and stayed. Later it turned out Sunday afternoon is a good time to find sessions. Oh yeah, and part of the experience was the soup of the day - a creamy carrot soup - very good.
Tonight we ate at Brogan's. Very good food. Reasonable prices. They were awfully busy - but 2 nights later we came a lot earlier in the evening, and they had all the time in the world. The food this night was probably the best of the whole trip: a steak with a very special tomato/herb sauce - excellent!

Recommended: Sunday afternoons in pubs. - Brogan's.
Music session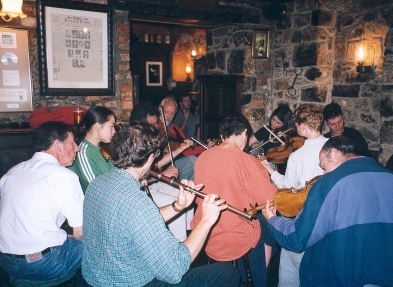 Monday
July 10
Sights: Bunratty Castle and Folk Park. (Declan drove us to Bunratty, he was going in that direction anyway. We took a Bus Eireann (public transportation) back.)
Main impressions: Bunratty castle was wonderful. I don't think I've ever been to a place like that before: clearly very old (15th and 16th century), rough around the edges as they didn't really know how to do finery then, but still obviously supposed to be luxury. And the narrow stairs... not built for thousands of tourists a day.
And the folk park. A little bit of "Den fynske landsby" ("The Funen village", houses with a lot of greenery between them), a little bit of "Den gamle by" ("The old town", original houses, moved close together to form a new town). I was particularly impressed with the fact that they moved a whole church into place - extraordinary, and somehow more special than moving a cottage. Animals around the place: a red deer, horses, donkeys...
Oh yeah - Bunratty was also the place where I got some very good, homemade fudge. Try it, if you don't already know it. I bought a lot of it in the airport going home as well.

Recommended: Bunratty Castle.
Bunratty Castle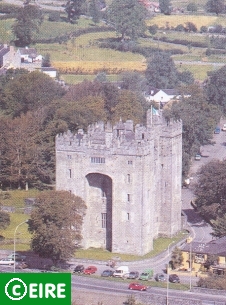 Church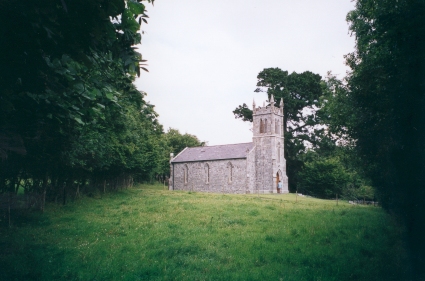 A red deer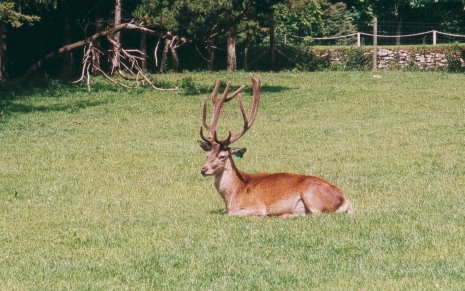 Tuesday
July 11
Sights: A coach trip covering The Burren, or to be more exact: Killinaboy Church, Corcomboe Abbey, Coole Park, Kilmacduagh Church and Round Tower and some nature - done by Glynn's Coach Hire Ennis Ltd.
Main impressions: The nature (this view from Killinaboy graveyard) - well, I just happen to like it. So maybe it was obvious that I would like Coole Park. The driver gave us a lot of time, and the management suggested that we wander around in the woods, reading poetry and identifying the different trees. I liked that.
The coach trip only had 4 passengers, and a very happy driver, who didn't talk much. Somehow a nice way to do it. Different from the professionel, time managed, swarmed industry approach of the 2 later coach trips.
Nature
Wednesday
July 12
Travel: From Roslevan to Ennis, Bernie made Declan drive us ;-)
From Ennis to Galway by bus.
From Galway to Salthill by cab. (Salthill is a suburb of Galway.)

BnB: For today and the next 5 nights Lynburgh.

Main impressions: Lynburgh (as a painting and in real life) is very professionally run by Teresa Burke. This far on in our vacation, we started washing our clothes - and the clothes would disappear, and come back dry! Another bonus is that Lynburgh is close to town, close enough to comfortably walk in to the restaurant streets.
Going to Ireland, one of my aims was to get some good, Irish jewellery. In Galway I found a shop, where I bought a shamrock (the Irish flower bringing luck) on a necklace, made of gold and emeralds. I am very happy with it.
We also found a lot of "music sessions", just by walking down the street in Galway. Excellent.

Recommended: Lynburgh.
Painting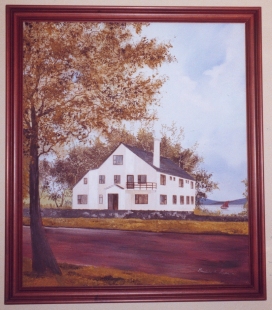 Real life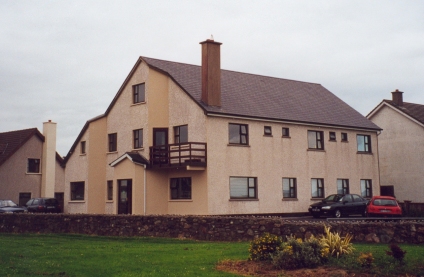 Music session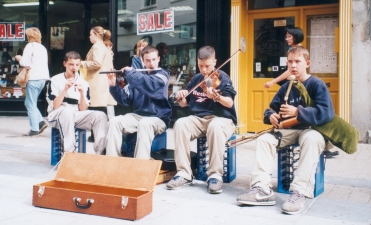 Thursday
July 13
Sights: Inishmoor, the biggest of the Aran Islands (transport by the Ferry Link, a part of Lally, and Island Ferries).
Ragus, a musical experience performed on Inishmoor.
Main impressions: You can get to Inishmoor in a lot of ways. I chose to get close by bus, and then take a short trip by boat (a kind of sea bus), as I didn't want to get seasick.
Inishmoor is 9 miles long and 2 miles wide, and 9 miles from the coast of main Ireland. There are only 800 inhabitants. Oh yeah, and the aran sweater was born here.
The touristy bit: I was overrun by horse-and-buggy combinations when I arrived to the island. But when I wanted to use one, they were all gone! (So I took a walk instead.) Kilronan: I had lunch at a burger bar, I constantly tripped over Japanese tourists, and everybody wanted to hire or sell me something.
The real attraction: for me, a big part of the day was going alone to Inishmoor. Being alone (picture taken by automatic), especially on a very remote place on a small island was special to me.
The Ragus was also good. "One hour spectacular show of Irish traditional music, song and dance". And as I like Riverdance, well, I liked this as well.

Recommended: Island Ferries. - Ragus.
Kilronan
Alone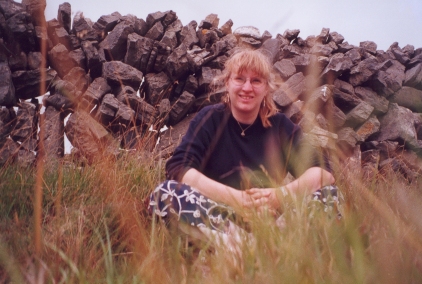 A very remote place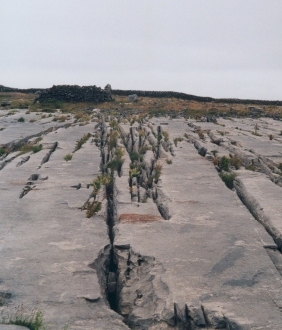 Friday
July 14
Sights: A coach trip covering The Burren, or to be more exact: Aillwee Caves, Poulnabrone Dolmen, Cliffs of Moher and Dungaire Castle - done by O'Neachtain.
A tantalizing glimpse of Siamsa.
Main impressions: Aillwee Caves - wow! One of the only caves around with not only prehistoric (1500 years old) bear bones, but also a "bear nest". (They were very proud of it - but didn't have any pictures I could buy of it?) And I think those were my first stalactites/stalagmites. And the lighting of the caves deserved the award, it got.
The Cliffs of Moher are supposed to be very special - 8 km long, 200 m high, a beautiful sight. Unfortunately we got some of the worst rain on the trip while we were there...
The Dolmen (a 5000 year old tomb) was a pretty special experience too. Part of it was being told, that we would be trespassing if we walked over to it - but the bus still stopped, so we could get off?
We wanted to see "Irish music/singing/dancing and folk drama" (Siamsa) this night. Unfortunately we learned too late, that there was a phone booking system for this show - and it seemed everybody else had used it, because the show was sold out...

Recommended: Aillwee caves. - Phone-booking of the Siamsa if you want to see the show.
Stalactites/stalagmites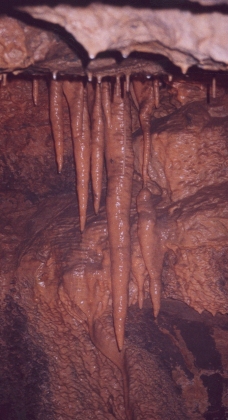 Cliffs of Moher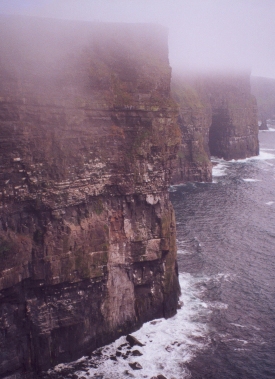 Dolmen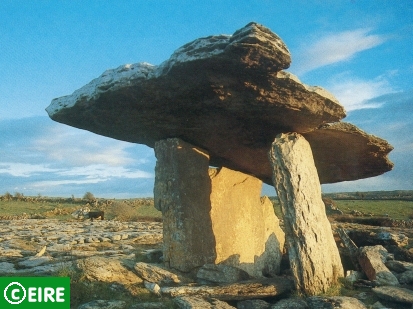 Saturday
July 15
Sights: A coach trip around Galway.
Traditional Irish music at a pub, The Crane.
Main impressions: The coach trip was good, mainly because the guide was good. She sang "Galway Bay"!
A fun part today was having my portrait painted.
The singer session on The Crane was a treat. (The 1st and 3rd Saturday every month, I think it's 20-21.30.) I heard some good, Gaelic songs and a lot of other, traditional stuff. And I got a chance to perform Shubidua's "Vuggevise", a Danish hymn called "Altid frejdig" and "Ommadawn". Why these? Because I know them by heart...

Recommended: Irish stew on Rabbitt's. - If you are a singer: a singer session on The Crane.
Portrait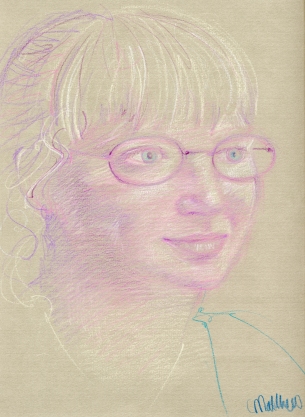 Sunday
July 16
Sights: A coach trip covering the Connemara region, or to be more exact: Kylemore Abbey, a replica of the cottage used for "The quiet man" and a lot of nature - done by O'Neachtain.
Main impressions: Kylemore Abbey (an 18th century castle, now a boarding school run by nuns) is a very pretty sight in some very pretty nature. From a distance. There's also a nice little church.
I bought the video of "The quiet man" and saw it when I came home. Actually it's quite good! Humor, a lot of Irish nature, a happy end...

Recommended: "The quiet man"
Kylemore Abbey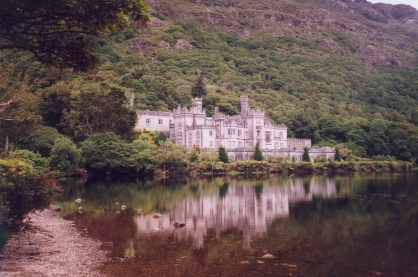 Church
Monday
July 17
Travel: From Salthill to Galway by cab.
From Galway to Shannon Airport by bus.
From Shannon Airport to Shannon town by cab.

BnB: For tonight Moloneys BnB.

Main impressions: Shannon turned out to be a dead town. Not any tourists at all - kind of liked that. No attractions. But I took a walk in the local forest.
Local forest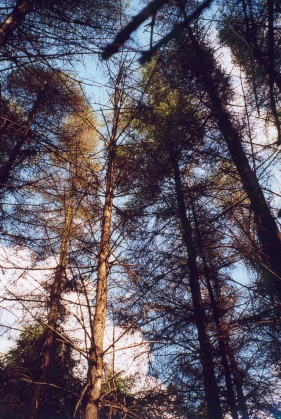 Tuesday
July 18
Travel: From Shannon to Shannon Airport by cab.
From Shannon Airport to Brussels by plane.
From Brussels to Copenhagen by plane.
From Copenhagen to Vanløse by train and subway.
Main impressions: Maybe we were just unlucky. Maybe it's a trend. But we got delayed both times (going out and home) in Brussels. Going home a situation developed: the preceding plane was late, the last 2 passengers couldn't find their boarding passes, and when finally that plane was over and done with, we still couldn't board because a technical thingy malfunctioned.
Created: 16 May, 2001 - Last changed: 23 June, 2008 - Comments (0)