London, 1997
Tags: Events London Me Pictures Vacation

This text covers April 20-24. The links in the text will lead you to pictures.
Intro
Hejsa!
As you may (or may not) know, we've been to London (we being me and my boyfriend, Obi)! Just for 4 measly days, but even then a lot happened, and I feel like writing it down. And why not tell it to you while I'm at it?
We were away Sunday-Thursday, we arrived late Sunday, just with time for a phone call (making plans for later evenings), and then went to bed. Thursday we had almost a whole day, before we had to be at the airport, and were home past midnight, a little later than expected. The days April 20th - 24th became almost as good as expected!
Sunday
This day was just for traveling, and settling in at the hotel. We left home at 16.00 (Danish time, 15.00 English), and arrived at our hotel room at 21.30. We used train, bus, plane, train and train to get to our destination. It took 45 minutes from arrival before we had our luggage, that felt like a long time, waiting at Stansted Airport. And the last train (the underground) was a bit confusing. We had planned on using the circle line (that night and almost exclusively for the whole stay), and suddenly discovered it wasn't running that night. But apart from that, it was a very smooth journey. 6.5 hours to get there.
Monday
Up at around 7.00, this day and the others. And almost immediately we were drawn to the window. Why was there a crowd down there? (Tourists on a sightseeing?) And why did they seal off the street with those strips? (The queen coming by? Somebody threatening to jump off some building?) Never mind, probably not our business. Then we arrived at breakfast. People talked about not being able to leave. A bomb? A bomb threat? The breakfast room had windows facing the street, and the tables there were empty. Getting a bit scary now. After breakfast we called the reception: yes, it was true, nobody could leave the hotel. The news on CNN and BBC didn't leave any doubts: all of London was affected by several bomb threats made by the IRA, and airports, major underground stations and so on were being searched. And as our hotel is nearly on top of Paddington Station, one of the biggest...

Anyway. The facts are that the street, we lived on was affected from 7 to 12. That meant, we couldn't leave at 10 as planned, and were a couple of hours late. On the other hand, it felt like forever, because we didn't know how long it would be. The result was, that I didn't go all the way to Kew Gardens to the Steam Museum at Kew Bridge. It would probably have taken a bit longer than usual to get there. And it would have meant me leaving Obi, and I felt safer with him close by...

Instead we went shopping in Soho. This was Obi's plan for the day, and we went to a place, where he could see some record stores (his main objective was to find Oldfield records), and I could visit Games Workshop (as an old gamer, I'd heard of this place, and wanted to see it for myself). Games Workshop? Big disappointment. Maybe I should have gone to some other, bigger GW, but I'm not sure it exists? Anyway, this was a very small business indeed (the one in Oxford Street), and it took me 2 minutes to get bored. Luckily, there was a scifi shop within sight, and I spent the next half hour there. They had real souvenirs, photos with autographs, original footage and so on. I got a borg key ring, and a t-shirt, that tells people, that all I need to know about life, I've learned from Star Trek... :-)

Then we joined forces again, and went to some more record stores. Obi didn't find that much, and I just found a book with Queen quotes.

And that seemed to be it. We didn't have more energy, and didn't really have time to gain some new energy, so the night ended with us eating deep pan pizza / chicken at the hotel restaurant, and watching some TV.
Tuesday
This morning was for sightseeing. That hasty glimpse of the buildings, we've heard about. And with somebody to tell us what we were looking at, and a bit of the history. Like "Ho Chi Minh worked as a pastry chef here"... Anyway, we saw Westminster Abbey, "Big Ben" (actually it's just the bell, that's called Big Ben...), Tower Bridge / of London and so on. A tour of 2.5 hours. (With a bit of a delay, because we passed Buckingham Palace when they changed the guard.)

An obscure Oldfield reference: we also saw the tower of the Oxo building!

Then a walk through Hyde Park, and a glimpse of Royal Albert Hall. (Time to think of Mr.Oldfield again...)

And then on to the Science Museum. It's big, and we didn't take time to see half of it. (I can't spend more than a couple of hours on a museum without getting a headache anyway.) The exhibition about space, with Apollo 10 as the center piece was good. Suddenly somebody came by, claiming to be a crew member of that vessel. His story about what space travel felt like to him (or rather, the person he was impersonating) was the best part here. There's also a good exhibition about computers, but it stops 15 years ago! Ah well, it was fun seeing ancient computers :-)

Oldfield reference: the A.C.Clarke room was also a pleasant surprise. There was a replica of Magellan from The Songs of Distant Earth, but no CD's... Shame on you :-)

This night we were meeting Matthew among others, Australians, friends by email, originally through the Mike Oldfield mailing list. They're in Europe for a couple of months, and we planned our trip to London accordingly. For a couple of reasons, we met later than planned, and just had time to eat at the Aberdeen Steak Houses (steak for us, took a long time to make, and were a bit boring), before we went (ran) to see The Mousetrap. Not star quality in any sense, but interesting. Nice evening!
Tower Bridge
Oxo Building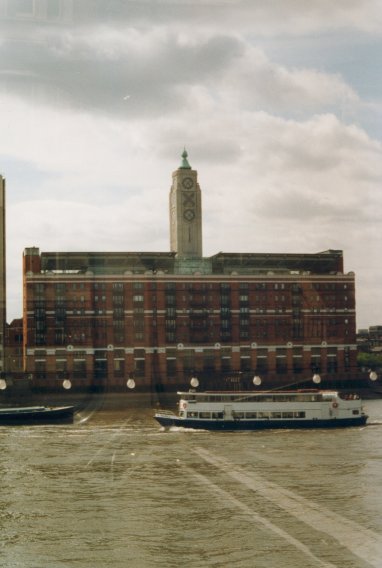 Wednesday
More shopping for Obi. And this time I went alone to the Natural History Museum. Their exhibition of dinosaurs was beautiful, and taught me a lot. The experience of an earth quake was a novelty, but not that impressive. (Does it really feel like that? I go through worse going to work on the Danish subway!)

Steak & kidney pie for lunch. Not that bad...

Getting together with Obi again. Not any real luck for him this morning either. On to Covent Garden. Nice place to be, atmosphere, live music, small shops (found a book taking place in Neil Gaiman's universe of the Sandman, real cheap at the Banana book store!). But I couldn't find the exhibition on holography. Maybe it's not there anymore. Anyway, I didn't know the place was that large, and I didn't bring the correct address. Bad luck.

St. Pauls Cathedral. Wow! What a place. Big. Impressive. Nice mosaics. (I spent an hour just reading about them and looking at them.) And I stayed for a service, to hear a choir sing here, and enjoyed experiencing how service was done. A bit different from the way I'm used to.

Then we spent the evening with Ian Braidwood, (ex?)-co-founder of The Shining Ones in GB. He introduced us to the Indian food, and we had a pleasant night talking about this and that, and Oldfield of course.
Dinosaurs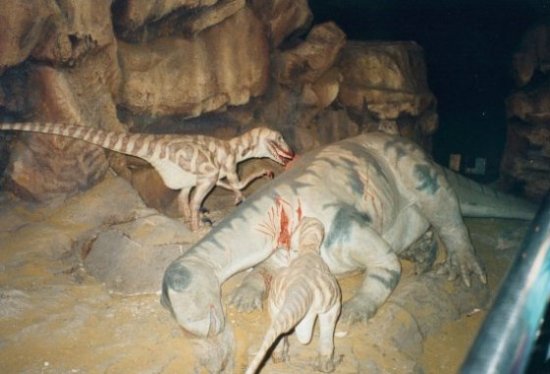 Covent Garden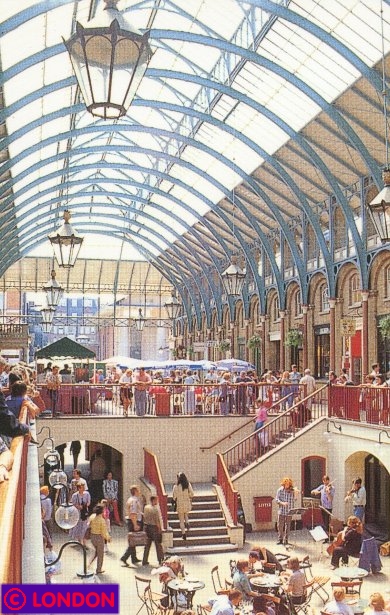 Mosaics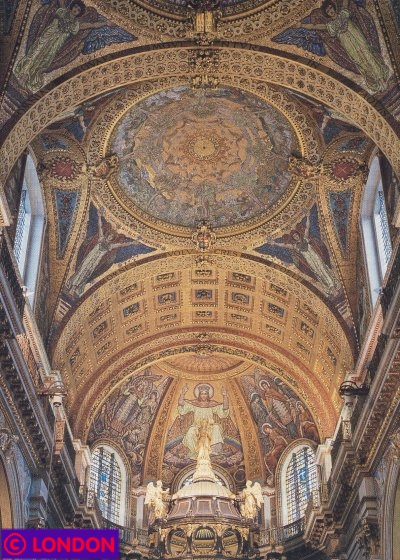 Ian Braidwood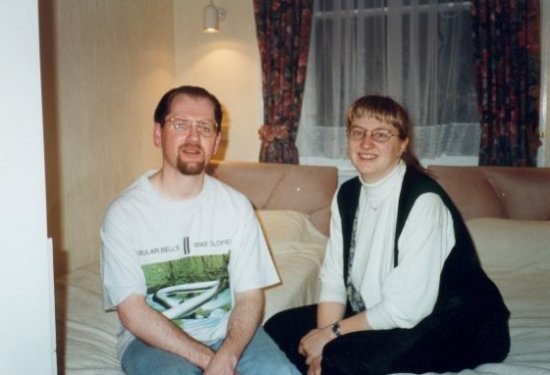 Thursday
First stop was Buckingham Palace. We got a hint that it would be smart to go to St.James Park, and take a look at the people involved in changing the guard, rather than going directly to BP. It didn't work out as expected, but even then we got a good look at some of the guards, an orchestra, and a goat! They pack impressive guns, by the way...

Close by we experienced a nice fountain, very flat and close to the ground, water just streaming down the slightly tilted surface, and decorated with maple leaves. Canadian related. Everybody was walking on it, which was very tempting, and I got some nice pictures. And belatedly saw the pleading sign with "Please don't walk on the monument"...

Lunch bought at Pret a Manger (very good sandwiches).

Oldfield reference: lunch eaten at Bedford Square (can't be named after that guy...).

British Museum. Egyptians, I just love them. But by now my feet were complaining almost constantly (4 days of walking took their toll), and I found it hard concentrating. I do remember the Rosetta Stone though. Wow! Then I took some time sitting down, while Obi explored the stone age.

And then it was time for us to go to the airport. We started out from Liverpool Street at 17.00. Dinner was just a whopper jr. At first it seemed the plane would leave earlier than expected. Then it got delayed a bit. And a bit more. Almost an hour later than expected, we could finally get in. Back home, we took a cab to get near our beds as fast as possible, and in the end, we were home at 0.30 (Danish time), also a journey of 6.5 hours.
Goat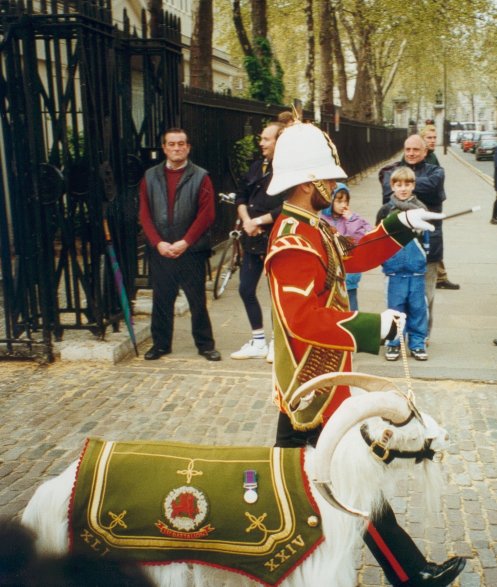 Fountain
Rosetta Stone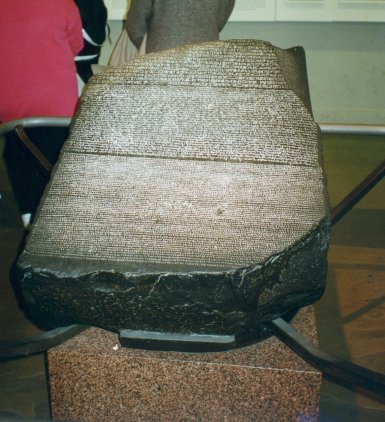 Outro
This was a nice trip. Next time we'll know more about how to get around the town, what to look for, where to go (the places we didn't have time for, for starters) and so on. It felt good being there, and it did feel like vacation. Record hunting wasn't that good, but maybe they were out of season :-) As you can see above, I'm still bubbling with delight.

Created: 30 June, 2001 - Last changed: 20 May, 2008 - Comments (0)